High-speed quality surface
The most modern racing circuit in the Nordic region is now ready to host both Formula 1 and MotoGP events. We have paid a visit to the Finnish championship circuit KymiRing.
The KymiRing motor sport venue is situated in Southern Finland. This ultra-modern racing circuit, about one and a half hours by car from Helsinki, is the only one in the Nordic region to hold an FIA Grade One License, which is required to host events such as Formula 1. The facility also has equivalent classification for road racing, which means it can host the prestigious MotoGP class.
KymiRing in a nutshellLength: 4.6 km
Direction of travel: clockwise
Width: 12 – 16 m
Number of bends: 18
Straight section: 1.2 km
Height difference: 18 m
Gradient of bends: 1.5 – 10%
Classification: FIA 1 (cars) and FIM A (motorcycles)
Alongside competitive operations, KymiRing offers driver training on specially designed manoeuvring circuits for both cars and trucks, as well as various vehicle tests. There is also a rallycross circuit alongside the main circuit.
Reclaimed asphalt
In view of the stresses to which the surface is subjected, with speeds of more than 300 km/h, combined with the rigorous safety requirements, extensive planning was required before the contractor YIT* — now Peab — set to work on the asphalting process. The design of the asphalt mix was based on basic principles drawn up by MotoGP's technical experts, including the ability to adapt the aggregate precisely to specified benchmark values.
"For this kind of surface, for example, the grain size is smaller compared to a normal road, and there are generally stricter quality requirements when it comes to friction values, evenness and homogeneity," says Arto Heikkinen, VP Paving Operations Peab Asfalt Finland.
KymiRing is 4.6 km long with a width of between 12 and 16 m. The circuit, which is driven clockwise, consists of 18 bends, a 1.2 km straight section and four distinct overtaking places. The height difference is almost 20 m and the maximum gradient of the bends is 10 %.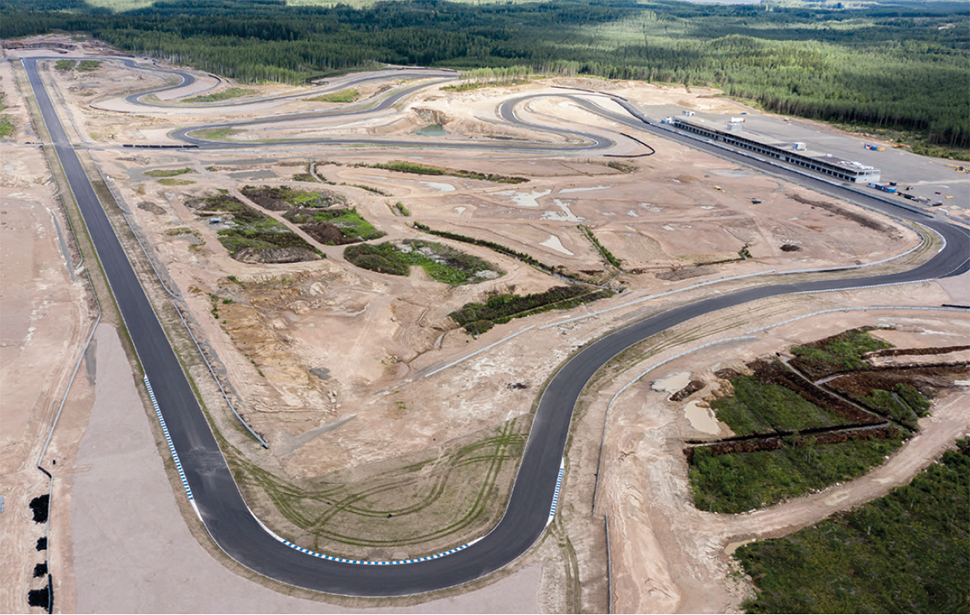 KymiRing is about 150 km north east of Helsinki. The 4.6 km circuit meets the strictest quality and safety requirements defined for hosting international motor sport competitions.
"Our assignment included laying two layers of asphalt," continues Arto Heikkinen. "The base course (ACbase 31/150) has a thickness of 60 mm, while the surface course (AC 11/100) is 40 mm. In total we used about 9,500 tonnes of asphalt, corresponding to 3,800 m3, for the base course and 7,500 tonnes for the surface course. There was then another 1,250 tonnes for the surface in the depot area."
"There are generally stricter quality requirements when it comes to friction values, evenness and homogeneity."Arto Heikkinen, VP Paving Operations Peab Asfalt FInland
For the base course they used reclaimed asphalt pavement (RAP) together with Nynas 100/150 as the virgin binder. The surface course, by contrast, consists exclusively of virgin aggregate together with Nynas 70/100.
Quality requirements
Surfacing work was carried out in the middle of summer, the base course over nine days and the surface course over two intensive days. The two pavers had a maximum pave width of 6.5 m. They also had access to five rollers and a third paver, which was used for the bends with the biggest gradient. To meet the stringent quality requirements, the surface layer was applied continuously, without stopping the paver.
"The project at KymiRing went to plan and within the time frame we'd set up. We now look forward to competitions getting started as soon as the COVID-19 pandemic has receded. Not least Finland's MotoGP, the motorcycling equivalent of Formula 1, which should have already been decided this year, but has now been postponed until 2021," concludes Arto Heikkinen.
---
* On 26 March 2020, the European Commission approved the sale of YIT's asphalt and paving business in Finland, Sweden, Norway and Denmark to Peab. The acquisition involves, among other things, 1,700 employees, 63 asphalt plants and 200 gravel pits.