Clearly perfect for rubber
NYTEX® 846 is a bright addition to Nynas' offering of naphthenic rubber process oils, aimed at mitigating the phase-out of Group I manufacturing technology. Its versatility makes it the perfect choice for just about any rubber and tyre application.

Mika Lahtinen
Global Technical Manager
Nynas 2016 - 2019
A clear, yellow process oil is Nynas' latest response to looming shortages of Group I process oils. Brightening the prospects for rubber and tyre manufacturers, NYTEX 846 process oil has been developed to deliver all the proven advantages of naphthenic oil and to provide the high solvency and viscosity required by the industry.
"It delivers excellence on all fronts – processability, mechanical durability and low temperature properties," says Mika Lahtinen, Global Technical Manager for tyre and rubber industries at Nynas.
For the tyre manufacturers, this translates into a tread performance on a par with any other tyre process oil. However, produced using hydrotreating technology, NYTEX 846 has a low aromatic content, providing an excellent opportunity for steps towards more sustainable rubber manufacturing.
The process oil's unusual light colour offers another opportunity – the formulation of innovative, coloured products.
With a viscosity similar to typical Bright stock oil, a low glass transition temperature, and a low pour point, NYTEX 846 is highly versatile process oil. It also has a flash point that is high enough to satisfy most manufacturing processes, ensuring safe processing at tyre and rubber plants.
"The polarity has been defined to ensure that it can be used with a range of elastomers and in numerous applications, everything from EPDM compounds, requiring high process safety, to state-of-the-art tyre tread compounds that provide both optimal traction and high fuel efficiency," says Mika Lahtinen.
Available from the company's global network of depots, NYTEX 846 is ready to serve the needs of a globally active industry, and to meet the evergrowing demand for improved production efficiency and fuel economy without compromising concerns regarding road safety, wear performance, or the environment.


Tested in a new lab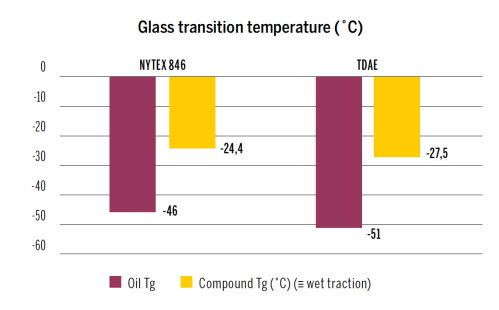 The new process oil has been comprehensively tested in the recently inaugurated Nynas Rubber Compounding Laboratory at Nynas Technology Centre in Nynäshamn, Sweden. Studies of the in-rubber performance in a tyre tread include comparison of glass transition temperatures (Tg) of rubber compounds extended with NYTEX 846 and TDAE.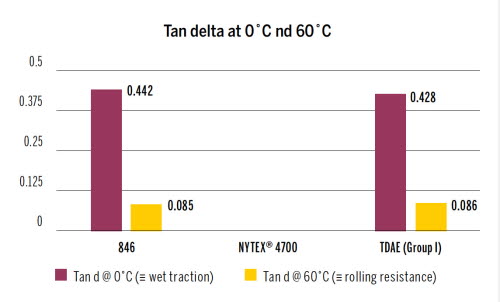 The NYTEX 846 based compound has a higher Tg, indicating improved traction on dry and wet road surfaces. At the same time, the heat buildup and loss factor tan delta at higher temperatures are identical to the compound based on TDAE, Figure 2.