Bio tyre oil brings added benefits
Nynas' first bio-based tyre oil offers tyre manufacturers the opportunity to combine their sustainability targets with performance advantages.
Dr Kamyar Alavi
Senior Technical Advisor
Nynas AB
A testament to the fact that performance and sustainability gains can go hand in hand, Nynas' bio-based tyre oil NYTEX® BIO 6200 also shows that intense R&D work pays off. Made partly with renewable feedstock, the new tyre oil was primarily developed by Nynas' researchers to help tyre manufacturers meet their sustainability targets when it comes to renewable raw material, without having to compromise on performance. However, tests show that the bio tyre oil also offers performance benefits.
"Tests carried out during the development of the biobased tyre oil revealed that not only did it match the strict requirements we place on all our tyre products, but in some performance areas, it actually surpassed them," says Dr Kamyar Alavi, Senior Technical Advisor, Tyre and Rubber Oils, Nynas Naphthenics.
When compared with other benchmark tyre oils in the market – from both Nynas' own product offering and those of other suppliers – the new biobased tyre oil showed a very high performance. Gains in vulcanisation speed were observed as well as a very good balance of dynamic properties. Especially the latter is very important for the tyre industry, as dynamic properties are used to predict the resulting tyre's key performance in such important areas as traction and fuel economy.
"As the tyre industry strives to become more sustainable, many look for raw material from renewable sources. The introduction of solutions such as NYTEX BIO 6200 demonstrates our commitment to supporting this, while providing our customers with the superior quality they have come to expect from Nynas as a global supplier," states Dr Alavi.
Specially developed to meet the tyre industry's demands placed on the technical performance of conventional tyre oils, NYTEX BIO 6200 meets all necessary requirements and expectations related to tyre rubber formulations. As the first tyre oil produced by Nynas to incorporate renewable feedstock, NYTEX BIO 6200 expands the company's product portfolio, creating sustainable value for customers and end users.
Comparison of key properties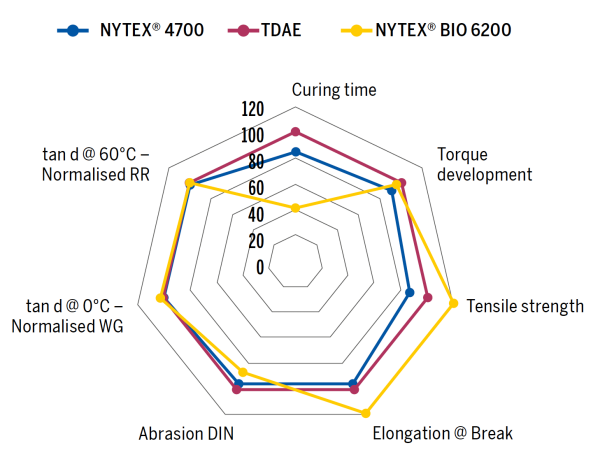 Sustainable and superior
NYTEX BIO 6200 is based on renewable feedstock. Making sure that their new bio-based tyre oil matches the technical performance of conventional tyre oils, Nynas' R&D experts compared the performance of the bio oil with that of several conventional tyre oils. Exceeding their expectations, the results reveal that the oil actually showed noticeable advantages in certain areas of performance. Shorter curing time, as observed in our work, will reduce the batch time, potentially increasing capacity.