Solving a transformer leak mystery
Retro-filling with gas-to-liquids (GTL) oil might cause problems with leaks in transformers previously filled with naphthenic oil. That is what Nynas scientists found when conducting an investigative study following customer reports about transformer leaks.
Robert Fairholm
Development Engineer
Nynas AB
Robert has a BSc Honours degree in molecular science from Liverpool John Moores University and has previously worked for Bookham Technology (now Oclaro) and Cranfield University. He joined Nynas in 2007.
"We were made aware of reports from customers that they had experienced significant leaks when retro-filling transformers with GTL," says Robert Fairholm, Development Engineer at Nynas Naphthenics section for Electrical Industry Technical Development and Market Support.
Despite assurances from the manufacturer that the compatibility between GTL fluids and typical sealants used in transformers was not an issue, Nynas decided to dig a little deeper.
"We thought it might be worth taking a closer look at the the performance of different transformer oils to see if we could identify what had caused the leaks," he says.
As nitrile rubber (NBR) is the most commonly used elastomer material in transformers, a comparative study was devised in which four different NBR based elastomers were immersed in either GTL or one of Nynas naphthenic transformer oils, NYTRO® 10XN. The study showed that the naphthenic oil resulted in a higher degree of elastomer swelling than the GTL oil.
"There was a significant difference in swelling between NBR test pieces treated with GTL and those treated with naphthenic oil. The volume change was far greater in the pieces that had been placed in naphthenic oil."
However, as none of the elastomers shrank after treatment with GTL, the oil's poorer swelling performance was not in itself enough to explain the leaks. To reflect the fact that the leaking transformers had previously been filled with naphthenic transformer oil, the investigation continued with the test pieces originally treated with naphthenic oil then being placed in GTL oil.
"All the different NBR materials shrank when the elastomer was first equilibrated with the naphthenic oil and then with GTL. This phenomenon would explain the leaks experienced by some customers, in particular if, following retro-filling with GTL, bolted joints are not tightened correctly or in cases where sufficient tightening is not possible due to imperfectly fitting joints," says Fairholm.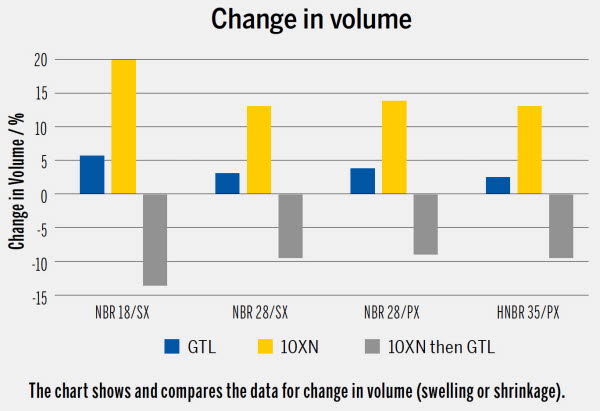 Significantly Superior Swelling
Test pieces of four different NBR based elastomers were cut into squares of around 30mm, and placed in beakers containing two different test oils, GTL and a naphthenic oil (NYTRO® 10XN).
The mass, density and hardness properties of each elastomer piece were measured before and after these were immersed in oil, in an experimental setup based on the standard test method ASTM D3455. Some elastomer test pieces were also tested and measured after first being equilibrated with NYTRO 10XN and then with GTL (10XN then GTL).
The results demonstrate the superior swelling achieved with the naphthenic oil. The shrinkage of elastomers first equilibrated with NYTRO 10NX and then GTL is also clearly evidenced, providing an explanation for leak issues following retro-filling.